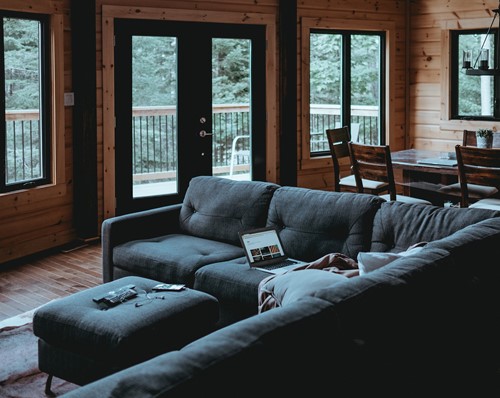 Modern rustic interior design has taken over social media and captivated the attention of designers and homeowners alike. With such enduring popularity you might wonder: what exactly is modern rustic? Here we'll go over the basic elements of the style for interior design in order to help you recognize it and use it in your own home.
Streamlined Comfort
Modern rustic takes the emphasis on comfort to a whole new level. Like in mid-century modern style, major furniture pieces have clean lines without being rigid. From the rustic side come natural materials, chunky knits and functional softness. A great example of this combination would be a streamlined but overstuffed sofa accented by a thick blanket and textured pillows. Neutral tones are the most popular choice for larger pieces, but always paired with colorful and eclectic accents.
Industrial Lighting
One key element of modern rustic design that's easiest to spot is use of industrial lighting. When designing a modern rustic interior, go for multiple, mismatched light sources to highlight specific areas of a room. "Focus lighting" and brings out the practical and utilitarian roots of the industrial style. Wrought iron, steel and brass can all exist in the same space and add a touch of ruggedness and sculptural forms to balance softness and comfort. Try both hanging pendant lights and floor lamps to focus light where it's needed most.
Unfinished Wood
Natural materials are a major part of mid-century modern design, but modern rustic makes wood in particular a focus point. Knotty, unfinished wood surfaces are key to a modern-rustic interior, whether it be present in furniture pieces or major surfaces. Rather than using colored paint for an accent wall, modern rustic rooms might have a wall covered in reclaimed wood. Adding a barn door either as decoration or to create a barrier is a perfect way to bring the rustic into an otherwise modern space.
Antique Art & Accents
While modern rustic typically keeps things streamlined and practical with large furniture pieces, art and accessories are where you'll find a lot of creativity and rustic charm. Go for traditional patterns on rugs, throw pillows and other textiles. For wall art, mismatched antique frames add to an eclectic feel. None of your decor needs to be truly "antique," either—there are lots of choices for brand new furnishings that emulate traditional styles and may be easier to find.
Conversational Spaces
The furniture and materials themselves carry most of the modern rustic style, but furniture layout also matters. Modern rustic design interiors often have symmetrical arrangements and furniture that faces each other to promote conversation. The style has been called family-friendly and company-friendly, promoting communication and comfort with guests and loved ones within the space. An easy way to recognize this conversational aspect to the style could be a large formal dining table with an even number of chairs—perhaps several more than necessary for the home's residents. A pair of chairs facing a sofa with an unfinished wood coffee table in between is another example of this concept.
Comfort remains the most important element in modern rustic design. It's an easily accessible style that can combine many pieces you might not think to put together. The emphasis on eclectic accents also promotes collecting and displaying heirlooms or anything that catches your interest. If you choose modern rustic design for your home, you'll find that you have a lot of freedom to make the space comfortable the way you want it.