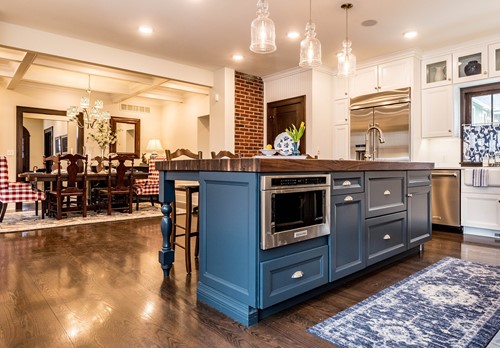 Image by Mike Gattorna from Pixabay

The benefits of buying a luxury home that's under new construction include customizing it to fit your life and your family, and choosing your own finishes is a perfect way to achieve this goal. But which finishes will still maintain their beauty under the stress of busy families on the go? Which ones require the least maintenance and will wear well under heavy traffic? Our experts have put together the perfect primer for homebuyers who want to customize their new construction from the ground up, so that the surfaces look great, last long and require minimal upkeep. Here's what we recommend:
Cast Concrete Countertops
Concrete tops the list for designing versatile-yet-gorgeous countertops. Completely customizable right down to the color, concrete is an upscale, elegant material for countertops in both kitchen and bath, and it has benefits that make it worth the effort, including:
Superior Heat Resistance
Extreme Durability
Ease of Maintenance
Versatility
When you choose cast concrete as your choice of countertop, you can customize it to fit any shape and any space. You can even choose to have materials such as decorative river rock embedded. You can have your concrete countertops dyed, stamped or polished to ensure that they're custom to your luxury home and your home only.
Eco-Friendly Flooring
Even if you're drawn to exotic hardwoods such as jatoba (Brazilian cherry), resist the urge to install them in your new luxury home because they contribute to harmful deforestation of the world's rainforests. Opt for eco-friendly, sustainable woods instead. There are plenty from which to choose, including:
Bamboo
Cork
Plantation Teak
Reclaimed wood is a viable alternative to non-sustainable wood, as well. Old barn timbers and salvaged pine logs make beautiful, luxurious flooring options that add history and architectural appeal to every home without harming the planet.
Sustainable Cabinetry
Wood is, far and away, the most popular choice for luxury kitchen cabinetry. And it's not just the type of wood used, but the style and design of the cabinets, as well. For upscale, luxurious wooden cabinets in your kitchen, pantry or bath, consider American hardwoods such as cherry, maple, alder or ash. The growth and harvesting of these trees are monitored by the American Hardwood Export Council and strict best management practices ensure that no species is stressed or over-harvested. Additionally, they're exceptionally hard to withstand all the dings and scratches that come with family use. Lastly, they look exquisite when installed in your kitchen as paneled ends on upper cabinetry, decorative legs on islands, and as the frames for elegant, glass-paned doors.
Your new luxury home is only made better by customization. Talk with your builder today about which finishes you'd like to see incorporated, and you'll love the end result even more.